Product Description
Solid Heart Pine Reclaimed Wood Shelves - No. 870-DW DRIFTWOOD FINISH
Eco-friendly vintage Solid Heart Pine mantel shelves reclaimed from the structures that helped build America.
Please Note: As each reclaimed piece of wood has weathered and aged differently, actual finish colors, cracks, and holes can vary greatly from photographs, and from one piece to the next. The random character of these natural processes will result in the individual and unique look of each piece. Colors and finishes cannot be guaranteed against weathering and reclamation processes.
The wood is hard and durable, and no matter what your décor, this classic treasure will complete your room with warmth and beauty. Available in two lengths: 60" and 72" and two finishes: Driftwood – a natural weathered gray, and Whiskey – a warm toasted honey brown.
About Reclaimed Wood
Using reclaimed wood benefits the environment, and can help save existing trees. Reclaimed lumber is also higher quality in general than new lumber. It is highly desired for its history and character. Reclaimed lumber provides a look that is simply unmatched by new lumber. Other characteristics include beautiful color, stability, durability, hardness, texture, and fragrance.
Heart wood is the dense, dark wood in the center of a tree. It is much dryer and more stable than the outer rings or "sap wood". The only reliable source for the richly colored, dense "heart pine" is from factories and mills built during the Industrial Revolution. Barns constructed up through the early part of the 19th century often contained oak beams. Hand hewn antique oak beams are now used by architects, designers, and furniture makers for their vintage yet sophisticated look.
No two pieces will look exactly alike—individual masterpieces.

Because each piece is unique, measurements may vary up to 3/4 inches.
Pictures are representative. Finish and physical appearance may vary greatly.

Some finishes may be lighter or darker than the picture.

Each piece is handmade retaining natural splits, knots, nail holes, etc. from the original wood surface.
Reclaimed Wood Finishes and Tannins
The finish reacts to the natural tannins in the wood. In reclaimed wood you will see both sap wood and heartwood together. Sap wood is the newer wood just beneath the bark in tree trunks and is lighter than the heartwood, which is the older central wood of the tree. While the heartwood is rich with tannins, the sap wood is not, so one section may receive stain differently than another. These are all natural characteristics of the wood and make each piece unique.


Shelf Specifications*
Available in Driftwood (DW) or Whiskey (WSKY) Finish
No. 870 Heart Pine Reclaimed Wood Shelf
870-60
870-20
Top Shelf Length:
60"
72"
Top Shelf Depth:
11.5"
11.5"
Bottom Base Length:
60"
72"
Bottom Base Depth:
11.5"
11.5"
Distance between Corbels:
34.5"
44"
Height with Corbels:
14"
14"
Corbel Height:
10"
10"
Corbel Depth:
9"
9"
Corbel Width:
4"
4"
*As each piece is different, appearance, measurements and weight may vary from published information.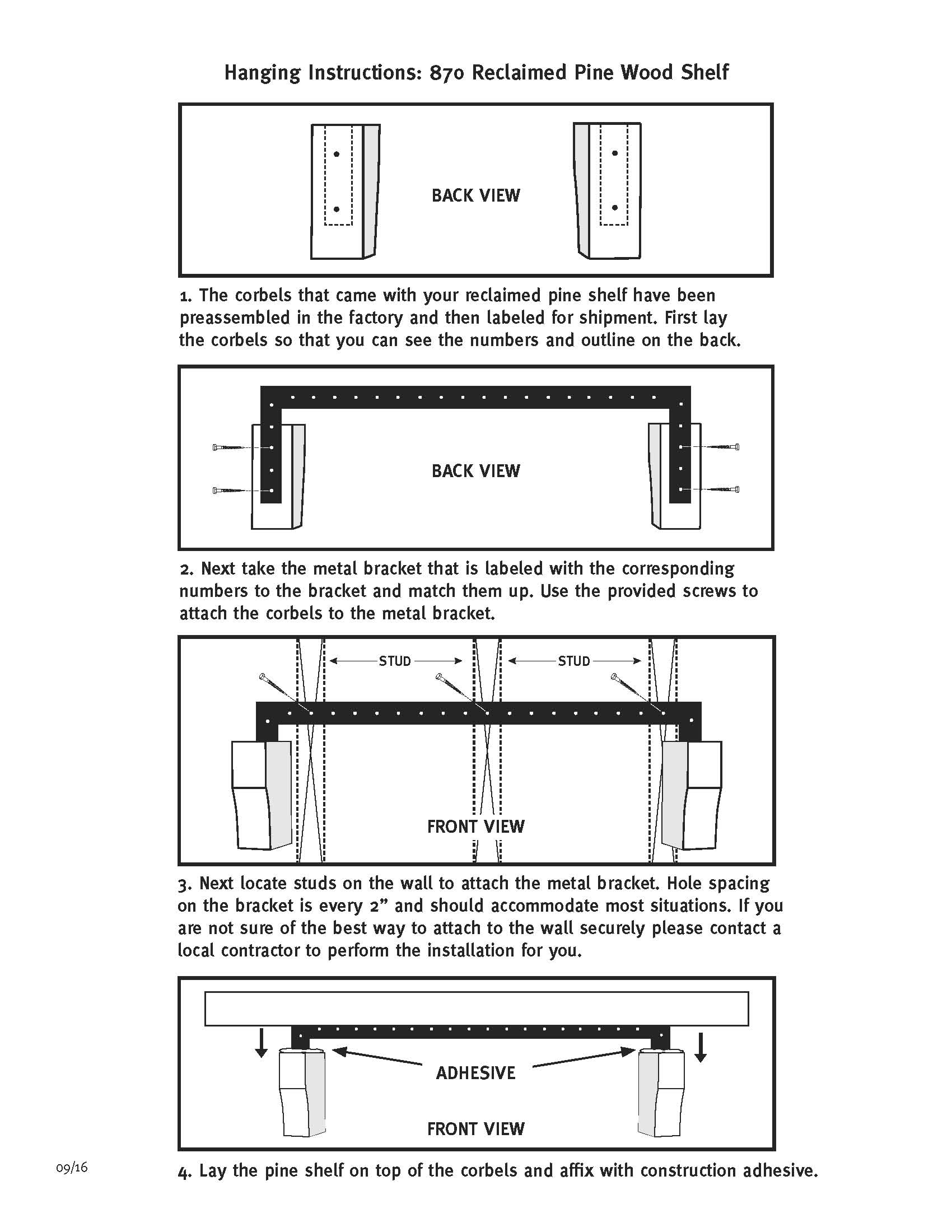 Other Details
Westfire Terms and Conditions of Sale LIMITED WARRANTY All products sold by Westfire Manufacturing are warranted to be free from defects in material and workmanship. All products will be exchanged or a credit issued if found to be defective by Westfire Manufacturing. No merchandise will be returned without prior approval of officials at Westfire Manufacturing. Improper use of products eliminates Westfire Manufacturing of any and all warranties or responsibilities for safety or performance either expressed or implied. CREDIT AND PAYMENT TERMS Westfire Manufacturing will establish an open account credit arrangement with established firms upon receipt of satisfactory trade and credit information. Open account payment terms, if any, will be determined by Westfire Manufacturing. All orders are subject to approval and acceptance by Westfire Manufacturing. Unpaid delinquent invoices are subject to a 2% per month (24% per annum) service charge. Buyer will be responsible for all costs, including attorney fees, incurred by Westfire Manufacturing for the collection of unpaid delinquent invoices. All good sold and shipped remain the property of Westfire Manufacturing until paid in full. WESTFIRE RESERVES THE RIGHT TO CHANGE PRICES AT ANY TIME FREIGHT TERMS F.O.B. Tualatin, Oregon. If credit has been established, freight charges will be prepaid by Westfire Manufacturing and added to the invoice total. Customer is Responsible to Pay all Freight Charges if Order is Canceled while in Transit. SHIPPING Stair Part orders are shipped to the customer from the manufacturer's warehouse or the manufacturer of a specific style. Please note that Westfire is not responsible for delayed, lost or damaged freight. CLAIMS Claims for shortages, breakage or damage must be made directly with the transportation company. Claims for shortages must be made within one (1) day after shipment received. Customer must count boxes, approve and sign receiver from transportation company. Customer is responsible to verify shipment quantity. RETURNS & CANCELLATIONS Special orders or nonstandard products are not subject to return or cancellation if special raw material purchase and/or production has been initiated. All returns of non-defective goods must be in new resale able condition, shipped prepaid, and are subject to a 25% handling and restocking charge. Any parts having been altered or otherwise modified may not be returned. Returns are limited to stock purchased within the last 30 calendar day (No exceptions).
Product Videos
Custom Field
Product Reviews